Technical
Download our Technical Paper on the EBS Flow Distributor
See Details of the EBS Flow Distributions
Information for Engineers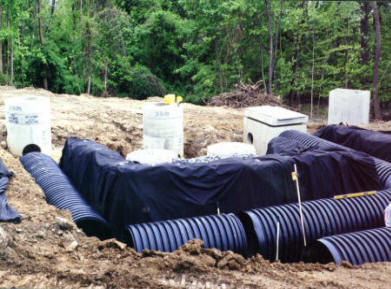 Above: Installation of EBS at a residential subdivision
For Engineers and Developers - we can evaluate your project to determine how much storage volume you would save by using the Extention Basin.
You need to have available for us the design parameters of your currently proposed Stormwater Management System.
Most of the evaluations are free to our clients. However, large projects may require consultation.
If you are interested in this cost saving solution, please make arrangements to e-mail data by calling our Toll Free number.
Call 914 271 4762 for Extention Basin Systems, Inc.
| | |
| --- | --- |
| | Workers installing EBS Flow Control Panels in a Control Structure |
| | EBS Flow Control Panel installed |
EBS Installations Completed or Proposed
Main Street Plaza, Peekskill, NY - Planned for 2011 Commercial
Buena Vista Estates, (Hanover East) Peekskill, NY - Subsurface Extention Basin provided in road shoulder for 33 lot housing development - Completed
Clarion Estates, Greenburgh, NY, Installed in cul-de-sac Completed
Ambulance Corp, Westchester County, NY, Planned Approved for 2010
Our Lady of Good Counsel (expansion), Pennsylvania, Completed 2010
Harbour Place (commercial), NJ, Planned Approved for 2011
Private Corporation, Peekskill, New York - Surface-type Extention Basin constructed for Materials Recycling and Transfer station - Completed
Pembroke Square, Armonk, New York - Planned 2011 - several acres of parking / store area treated by two subsurface Extention Basins
Hunterbrook Subdivision, Yorktown, NY - Retro-Fit replacement of two large basins with one extention basin in the NYC DEP watershed Completed
Bedford, NY Residential Subdivision - Planned 2011
Affordable Housing, Rye, NY Planned Approved 2011
Auto Body Shop, Yorktown, NY Planned Approved 2011
Gualtiere Residential Subdivision, Ossining, NY Completed
Van Cortlandt Residential Subdivision, Ossining, NY Completed
... More on the way