EBS Device Greatly Minimizes Stormwater Detention Storage
2022
The Extention Basin and its integral flow distributors are proven innovative technology that vastly improve the efficiency of stormwater management systems. EBS is the ONLY system proven to reduce stormwater volume.
The Extention Basin optimizes any detention basin and provides full peak flow reductions over the full range of design storms.
Operational history is extensive and technical information is available.
Reduce Detention Storage
The Extention Basin minimizes stormwater storage volume to about

50%

of conventional systems and works in conjunction with your stormwater treatment BMP's, such as filtration and infiltration.
Reduce

Cost
EBS reduces the land area set aside for stormwater treatment due to the reduced footprint
EBS uses less material due to the reduced storage volume
Reduce

Environmental Impact
EBS mimics the original natural hydrograph
EBS requires the absolute minimal land disturbance
LEED credits are available for Site Design
Extention Basin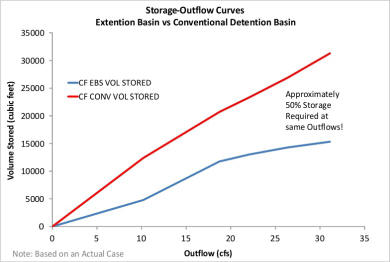 EBS Regulator
The EBS Regulator is the device that provides an all-in-one service within the storm system. Case Study Brochure (pdf)


US Patent 7052206 The term "Extention Basin" is trademark protected
NEW ! FREE TRIAL ANALYSIS
Uses Patented Flow Distribution
50% Less Volume
A typical EB system contains an EBS Regulator that uses optimized, custom designed flow control panels and constant flow devices.
The Extention Basin integrates all other required storage amounts, such as runoff volume reduction,
channel protection volume and water quality volume. It does this by distributing flows using optimized flow control panels.
Generally, the EBS requires only 50% of the storage of standard stormwater systems. The distributions are performed using high-level mathematical techniques using our proprietary software.
The Extention Basin system uses the minimal land area and storage volume possible.
The Extention Basin does not "treat" stormwater, it is not a BMP on its own - it merely distributes stormwater to other BMP's and detention systems based on the regulatory requirements. The Design Engineer may specify any form of treatment or BMP.